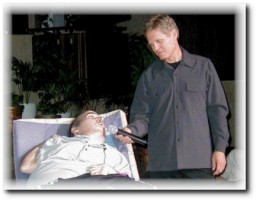 Steve Green has been a personal friend of mine for over 15 years. We first met at a concert in Boca Raton, where Steve was ministering. We exchanged email addresses and telephone numbers and have kept in touch ever since, encouraging and stirring oneanother up in the faith. It's been my privilege to speak to audiences at several of Steve's concerts on various topics. On February 8, 2003, one week after the Columbia Space Shuttle tragedy, Steve gave a concert at Coral Ridge Presbyterian Church in Ft. Lauderdale, Florida. Once again I was invited by Steve to speak on the subject of trials and suffering. God seemed to richly bless that evening, as Steve shared some of his personal memories from his friendship with Rick Husband, Commander of the Columbia mission. Steve's selection of music, his testimony of Commander Husband and my talk on trials and suffering, were providentially in orchestrated harmony. I praise God for this and believe that He was glorified that evening.

Steve was in attendance for Rick's first shuttle launch several years ago and was also in attendance for this launch. He sang both times at pre-launch receptions. He said the reception for the Columbia launch was very Christ-honoring. Steve described Rick as a quiet, unassuming man who was, yet, very vocal about his faith in Christ. He said Rick did not miss an opportunity to give glory to God and mentioned that when Mission Control said it was a beautiful day for a launch, Rick responded with, "The Lord has given us a perfect day!" A suit technician shared the following story with Steve. He said that after the astronauts suit up they walk down a hallway and then open a door to "face the press!" Rick stopped the crew before they opened the door and said he wanted to pray for them. Later the technicians talked about this and one said that in all his years he had never heard of a captain praying for and with his crew.

The spouses of the crew each get to pick a song for them to wake up to one of the mornings they're in space. Rick's wife selected "God of Wonders" by Steve Green. Steve played a tape for us of Rick communicating with Mission Control after the song was played. The conversation went something like this: Mission Control - "Good morning. That song was for Rick. It was 'God of Wonders' by Steve Green." Rick - "Good morning. Thank you. We can really appreciate the lyrics of that song up here. We look out the window and see that God truly is a God of wonders!" Steve also shared part of an e-mail he received from Rick, transmitted from outer space! Rick wrote about how overwhelming it was to see God's vast creation from space. He said he had never cried while exercising before, but peddling on the bike and looking out the window at God's incredible creation brought tears to his eyes.

Steve then sang several selections from his latest CD "Woven in Time". He then spoke about our mutual friendship and proceeded to ask me the following questions:

Steve: "Why is there suffering in the world?"

Johnny: "The Scriptures tell us, that all suffering and eventually death is a result of man's rebellion against God, which first took root in the Garden of Eden." "God cursed man and all of creation". (Romans 5). However, the good news is that God so loved the world, that He sent His Son into the world to restore man and to create a new heaven and a new earth". (John 3:16 and Revelation 21:1).

Yet, I believe that suffering was also necessary, in order to show the immense character of God's love, mercy and compassion. This is best displayed at the Cross. Jesus said, "My food is to do the will of Him who sent Me, and to finish His work." (John 4:34). The last words Jesus said on the cross was, "it is finished"! And in the cross of Christ, all suffering and death is finished."

Steve: "How has suffering affected your relationship with God?"

Johnny: "The best way I can answer that question is to borrow the words of King David when he says in Ps. 119:71 - "It is good for me that I have been afflicted, That I may learn Your statutes." I also identify with Joni Eareckson Tada, who refers to suffering as her "strange friend". Suffering and trials have helped me to realize, that I must fully rely upon God for all things. They help me let go of this world and eagerly look forward to eternity with Christ.

"When I'm experiencing intense pain, frustration and discouragement, I often think of the portrait painted by Scripture of the Apostle John with his head laying on the bosom of our Lord. (John 13:22). When meditating upon this passage, I sometimes sense the Lord's bosom resting under my head."

Steve: "What advice would you give to those who are presently going through difficult trials?"

Johnny: "First I would remind them that though their trial may not be pleasant, to remember that God is sovereign. He is not unfamiliar with their suffering. He suffered, so that He could sympathize with us and comfort us in all our trials. (Hebrews 4:15). Next I would encourage you to embrace your suffering. Our hearts are so pridefull. With our advanced technology and medicines, we try to fix all our problems. But we can't. Only God can. Steve, you have a song entitled, "Embrace the Cross". I want to encourage others to embrace their cross. The cross that God has called them to bare. For it's in our weakness where God's grace and strength is made manifest. This brings glory to our God. Suffering is the very vehicle for which God draws us into intimacy with Himself. It's through suffering that we are sanctified and made fit for Heaven. (Philippians 3:10)

Steve then dedicated his next song "Refiner's Fire" to me and closed the concert by singing "A Mighty Fortress" and "Amazing Grace".

Immediately following the concert, I was surrounded by countless numbers of people, who began telling me of some of the difficult trials they were facing. They gave testimony how God visited them through the things I had shared that evening.

It's tremendously delightful and fulfilling to be used of God, to bless others and to reflect His glory! I thank my God for allowing me this privilege and opportunity to serve Him.

Please pray for Steve as he continues to serve our God through his gifts and talents. You can check out his web site by clicking the photo of Steve and myself at the beginning of this article.